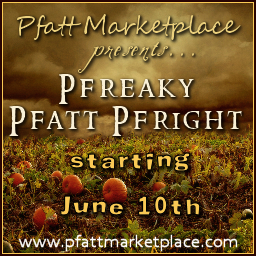 Wanted to give you a heads up about the fun things that will be happening on Primitive Folk Art Trinkets & Treasures over the next two months.

Pfatt is planning a Pfreaky Pfatt Pfright

A fun Halloween theme. There will be an "Enter Doorprize" button on the Doorprize Page and at the end of the month winners will be picked for each prize. Entries must include a first and last name and a valid email address..and can enter once a day. Doorprize winners for June's giveaway will be announced on the doorprize page on July 10th.

There will be lots of prizes so enter every day to win some fun creations.
I will be creating a prize for these drawings.

Also look for "

Holly

Jolly

July

" you guessed it that is July's theme with even more give aways.

Here is my give away for this Halloween theme month of June. These are cute little ornies with treat bag heads.



Michele Hildebrant is the winner of my Halloween door prize

.